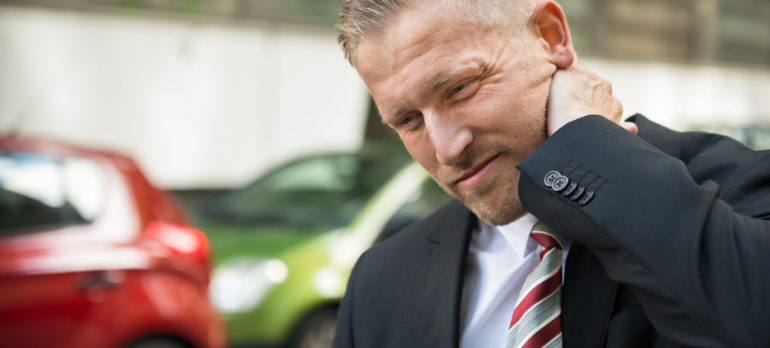 What is whiplash?
Whiplash is a relatively common injury that occurs to a person's neck following a sudden acceleration-deceleration force that causes unrestrained, rapid forward and backward movement of the head and neck, most commonly from motor vehicle accidents. The term "whiplash" was first used in 1928. The term "railway spine" was used to describe a similar condition that was common to persons involved in train accidents prior to 1928. The term "whiplash injury" describes damage to both the bone structures and soft tissues, while "whiplash associated disorders" describes a more severe and chronic condition.
Fortunately, whiplash is typically not a life threatening injury, but it can lead to a prolonged period of partial disability. There are significant economic expenses related to whiplash that can reach 30 billion dollars a year in the United States, including:
medical care,
disability,
sick leave,
lost productivity, and
litigation.
While most people involved in minor motor vehicle accidents recover quickly without any chronic symptoms, some continue to experience symptoms for years after the injury. This wide variation in symptoms after relatively minor injuries has led some to suggest that, in many cases, whiplash is not so much a real physiologic injury, but that symptom is more created as a result of potential economic gain. Many clinical studies have investigated this issue. Unfortunately, while there will always be people willing to attempt to mislead the system for personal gain, whiplash is a real condition with real symptoms.
What is the treatment for whiplash?
Treatment of whiplash depends on the wide variety of symptoms present. Unfortunately, most treatments of whiplash have not been well tested to determine their effectiveness.
The most important issue in the management of whiplash is an optimal education of the patient about their injury. This includes information on the cause, potential treatments, and likely outcomes. Patients should understand that this is a real injury, but that nearly all patients have the ability to fully recover. Patients that do not receive this information are much more likely to develop the more chronic "whiplash associated disorder."
In the past, the initial treatment for whiplash was often a soft cervical collar for several weeks. The goal of the collar was intended to reduce the range of motion of the neck and to prevent any additional injuries. More recent studies have shown that this prolonged immobilization actually slows the healing process. If there is no evidence of abnormal spinal alignment, early range of motion is advised.
Patients involved in the early range of motion exercises have been shown to have a more reliable and rapid improvement in their symptoms. This treatment typically involves rotational exercises performed 10 times per hour as soon as symptoms allow within the first four days of the accident.
It seems that excessive rest and immobilization have been shown to have greater chances of chronic symptoms. This is explained by the loss of range of motion leading to increased pain and stiffness. Immobilization also causes muscle atrophy (muscle wasting), decreased blood flow to the injured soft tissues, and healing of damaged muscles in a shortened position that renders them less flexible.
Physical therapy can be useful in helping to wean a patient from a cervical collar as well as to help strengthen muscles and reduce painful motions. Occupational therapy can be used to help return the patient to the work environment.
If the patient begins to develop psychological symptoms including anger, anxiety or depression following an injury, prompt treatment of the emotional condition is recommended. This can help the patient better understand the good chances for successful recovery and reduce the chances of chronic symptoms.
Get Whiplash Specialist on A Lien @DoctorsAcceptLiens